My first book, "Tantum Ergo Makes Your Hair Grow and Other Things I Learned After Class" is self-published through the Espresso Book Machine.
Click the following link to be re-directed to "On Demand Books" and be able to purchase Tantum Ergo Makes Your Hair Grow –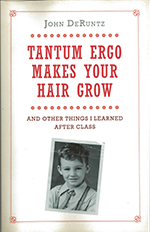 Set in the years right after World War II, you will follow the exploits of a sixth grade boy in a Catholic school somewhere out in the great plains of the Midwest. But you don't have to be Catholic to understand his complicated life, where he discovers that you don't learn everything in a classroom, especially the most important things. He not only has to cope with the Holy Trinity, but an older sister and puberty as well. Here are a few observations in his own words.
Singing in Catholic school is usually in Latin, instead of English, so we never have any idea what we're singing about. The older kids laugh and say it's something dirty. How would we know?  The worst I've ever done is to sing, "Tantum ergo makes your hair grow,'' instead of the real words.
Some people dance around a pole in other countries to celebrate May. But where I live and go to school, we have to march around in a procession and sing to the Blessed Virgin Mother, Mary, Queen of the May. Virgin is one of those words they use a lot in Catholic school, but never tell us kids what it means, just like The Immaculate Conception or The Feast of the Circumcision.