Thus far I have released four albums of my classical, romantic, and impressionistic piano compositions. The first was SOARING  in 1997 and the second, FANTASIA, in 2002. The most recent are REVERIE in 2012, and ENCORE in 2013. The following descriptions of the music are taken from the liner notes included in the albums.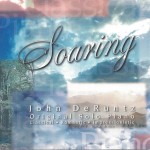 The eleven compositions I chose for the SOARING album spanned a twenty-four year period from 1973 to 1997.  The lead-off piece, Legend, was written especially for this collection to provide a counterpoint to my music of the past.  Some of those works were just for family or friends, while others happened to be inspired by some idea or image.  Some pieces bear classical titles found throughout musical literature, while others have no rhyme or reason behind their birth.  These appeared in moments of unexpected creativity, leaving me to find a title that later seemed to make some sense.  I performed the last composition on this album, Passages, as my closing piece in the May, 2011 Van Cliburn International Piano Competition for Outstanding Amateurs and arose from the piano bench to astounding applause and shouts of `Bravo, Bravo' from the obviously appreciative audience.  I hope that you will listen to my music with the same enjoyment they experienced, and the fun I have had writing and recording it!
1. Legend (G Minor, 1997) I began this piece on a rainy day that inspired the slow arpeggio accompaniment to a melody that is developed around the interesting chord progression of G minor to B major.  Otherwise I had no particular story in mind and the listener is invited to create their own legend from this beginning. 7:40
2. Prelude (D Sharp Minor, 1992) This work is one of those that simply appeared out of nowhere.  Although it is quiet and reflective, there is an undercurrent of emotion and it seems to finish with a sigh. 1:44
 3. Nocturne (D Flat Major, 1976) This piece had its origins in some improvisations that quickly made their way to manuscript paper.  The quiet middle section sets a peaceful nocturnal mood that permeates much of the piece. 5:31
4. Soaring (A Flat Major, 1986) The title piece of the album brings to mind daydreams of being able to fly above the clouds, the spirit soaring to heights never thought possible, and then, a final gentle return to earth. 6:27

5. Three Sisters (D Major, 1984) Three themes in different keys cycle through this piece written to celebrate the lives of elderly sisters, Mary, Margaret and Francis.  It was a privilege to know these lovely ladies and be witness to such distinct personalities.  Although theirs was a loving relationship, they often seemed to be out of phase with each other.  This prompted me to introduce the syncopated left hand accompaniment.  Mary's theme begins the cycle in the key of D followed by that for Margaret in B Flat.  Francis was permanently confined to a wheelchair at the time I wrote this work and that accounts for her subdued theme in F Sharp. 5:00

6. Prelude (A Major, 1979) A delicate contemplative piece in 5/4 time that seems to start and stop due to the irregular meter.  I was inspired to write this as a Christmas gift for a friend who appreciated my music. 2:36

7. Rhapsody (B Flat Minor, 1992) An emotional, intense piece of Romanticism that begins rather quietly with phrases drawn from the middle section in a major key before gathering momentum in the minor and eventually exploding in a tumult. 6:00

8. Prelude (B Flat Minor, 1976) This composition is presumptuously dedicated to the "Poet of the Piano,'' Frederic Francois Chopin, whose music has always been an inspiration to me. 2:18

9. Tina's Lullaby (D Major, 1973) This piece was written for my daughter, Kristina Mi Ae, who was adopted from Korea at the age of eight months.  It seemed that she should begin her life here in America with this lullaby. 2:22

10. Elegy (D Major, 1973) Webster's Dictionary describes an elegy as a funeral song or lament for the dead.  My interpretation is in the form of a mini-requiem that explores the stages of initial awareness, anger, denial and eventual acceptance of our final fate. 6:54

11. Passages (D Flat Major, 1982) This is a poignant piece written for a friend who was facing some difficult passages in his life.  A variation of the animated middle section is used as a coda, but with a gentleness that brings the work, and the album, to a quiet conclusion. 6:36
Total time for SOARING 53:17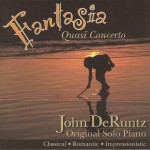 The sixteen offerings on my FANTASIA album were written over a period of roughly forty years and represent the fantasies of my inner child: to create and perform piano music of my own.  These compositions range from the seven playful and whimsical scenes in the `Childhood Miniatures Suite' to the `Fantasia Quasi Concerto,' a one movement solo piano work in the form of a romantic concerto.  In between are found a variety of pieces that were written for people in my life, for a radio show, or just for fun.  These cover the emotional spectrum from deep sadness and gentle introspection to joyful and dramatic virtuosity.  I played the Etude in D Sharp Minor as the second piece on my program in the May, 2011 Van Cliburn International Piano Competition for Outstanding Amateurs. I hope you will enjoy this album as much as I have in planning and recording it.
The seven pieces in the `Childhood Miniatures Suite' include:
1. The Music Box Ballerina (F Major, 1976) This music box slows down and speeds up just like a real dancer. 2:17

2. A Crowd of Children and Two Elephants (F Sharp Major, 1961) Visualize children skipping down a street and suddenly they come across two elephants. 1:35

3. Requiem for a Favorite Kitty (D Major, 1994) Into every young life comes the loss of a favorite pet. 2:41

4. Dance of the Halloween Witch (A Minor, 1961) A Halloween witch isn't so scary after all. 0:40

5. Skating with Jane (B Flat Major, 1979) Every boy likes to skate with his favorite girl. 2:06

6. Around the Christmas Tree (G Major, 1978) A study in perpetual motion, excited children ripping open their Christmas presents. 1:03

7. Drowsing by the Fire (F Major, 1978) The warmth of a fire makes young ones sleepy after a long day. 3:34

The album concludes with nine more tracks:

8. A Christmas Reverie (E Major, 1990) This was a holiday present for a pianist friend to go with her new baby grand piano. 3:00

9. Maggie's Theme (A Major, 2001) If a movie is ever made about my wonderful Maggie this would be the theme.  Of course, strings and woodwinds would be added to sweeten the piano solo. 2:27

10. Prelude (B Flat Major, 1978)  Chords in the treble clef are accompanied by scale work in the bass suggesting some kind of unrest.  However, it concludes with an uplifting finish. 2:05

11. Fanfare for the Arts (D Flat Major, 1996) This piece was written for the theme of a weekly radio show on KCME, the classical music and jazz station in Colorado Springs, Colorado.  The show was devoted to interviews, commentary and reviews. 1:01

12. Valse a la Rita (A Flat Major, 1995) A lively waltz that was a surprise for someone's memorable birthday. 5:19

13. Etude (D Major, 1972) A gentle and meditative arpeggio piece that can be played by the left hand, or by both hands. It also exists as a classical guitar work. 5:51

14. Etude (D Sharp Minor, 1968) This is a dramatic arpeggio study built around a descending chord progression and is a stark contrast to the preceding etude. 1:36

15. Lacrimosa (E Minor, 2000) "Tears,'' a deeply sad piece that modulates through two key signatures in only seventeen measures, is dedicated to the respected composer and friend, Carlton Gamer.  A note on the manuscript poses the question, "How is it that one can write such sad music when one is joyful, and vice-versa?" 1:14

16. Fantasia Quasi Concerto (B Minor, 1995) The concluding piece on the album is one result of my boyhood dreams and is loosely organized in the form of a romantic concerto movement.  A rather lengthy introduction is followed by the opening minor key theme and its related material.  This eventually leads to the elegant major key melody of the middle section.  The recapitulation concludes with a cadenza and a return of the melody of the middle section in the related key of D major before the spirited finale.  Imagine my inner child at the piano as you listen to a fantasy fulfilled. 17:46
Total time for FANTASIA 54:15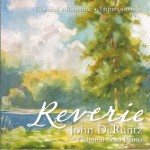 The REVERIE album contains fourteen pieces and represents some of my most introspective piano compositions.  It begins with a waltz written for a wedding and concludes with another in the grand spirit of Johann Strauss the Younger.  To be sure, I have included some dramatic selections to offset the somber tones of a funeral march and some reflections on those quiet moments in our lives that remain in our memories.  All of these pieces were written in the last ten years.  The G minor Prelude was my opening selection in the May, 2011 Van Cliburn International Piano Competition for Outstanding Amateurs.  I hope that you will enjoy the music I have chosen for this collection as much as I have had in writing and recording it.
1. The Wedding Cake Waltz (A Major, 2008) This piece was commissioned by my daughter, Nicole, for her wedding to Justin on August 23, 2008.  It describes the initial vision, the awkward stages of preparation, the decoration and finally, the cake itself, complete with wedding bells in the exuberant finale.  Behind the scenes are parallel stories following the same stages of development of Nicole's growth, and my efforts to offer something grand for the ceremony. 5:29

2. Prelude (D Minor, 2009) A short composition of only 24 measures, but it encompasses a wide dynamic range with a simple driving eighth note left hand accompaniment. 1:28

3. Remembrance (A Minor, 2003) The sentimental nature of the main sections is accompanied by left hand arpeggios throughout. The secondary theme begins quietly, but culminates in a passionate return to the gentleness of the opening. 6:23

4. Prelude (G Minor, 2008) Variations of the opening phrases gradually move this piece into the key of F minor in the melancholy central section.  The return to the home key is unexpectedly dramatic and eventually leads to a closing cascade of descending sixths in the treble. 2:43

5. Reverie (E Major, 2011) This is my impressionistic interpretation of a dream that might cause a listener to drowse off to sleep. 6:44

6. Etude (F Sharp Minor, 2012) A study concentrating on the technique of playing notes of a melody in the treble by crossing the left hand over the right while still maintaining the bass line. 2:34

7. Cortege (C Sharp Minor, 2009) I dedicated this funeral march to my mother, Mary, who passed away on December 23, 2008.  It is based on a four measure chord progression that repeats in a series of new keys with a bass note as a tolling bell.  A poignant interlude in D flat major forms a peaceful bridge to the finale. 9:24

8. Prelude (G Sharp Minor, 2012) The primary themes are ornamented with grace notes on the first beat of each phrase.  An uplifting melody is then heard that ends in the key of D flat major before returning to the initial motif. 4:31

9. A Lullaby for Zoe (E Major, 2012) My granddaughter, Zoe Maria, was born on January 2, 2012, to my adopted Korean daughter, Kristina Mi Ae, and Italian dad, Joe.  A lullaby I composed in 1973 for eight month old Tina is on my 1997 album, Soaring. 2:18

10. Etude (F Minor, 2007)  A study of parallel thirds and sixths for the right hand.  The central section builds to a climax with a cascade of thirds down the keyboard before returning to the opening phrases. 2:19

11. Prelude (A Minor, 2009) Another short piece of only 24 measures, but this one moves rather slowly, making a detour to the key of B minor before returning to its original key. 1:14

12. Reflections (G Major, 2008) Perhaps this is actually a classical jazz ballad.  It was transcribed from an acoustic guitar piece I wrote many years ago. 2:38

13. Prelude (D Major, 2010) This work contains a series of tender melodies and their variations that culminate in a slowly descending scale in the bass to bring it to a peaceful conclusion. 3:04

14. Maggie in Vienna ( D Flat Major, 2005) A waltz written for my wife, Maggie, before we traveled to Vienna, the showplace of Johann Strauss the Younger. 6:25
Total time for Reverie 57:14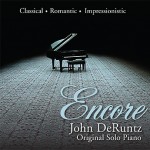 ENCORE closely follows Reverie (released shortly before Christmas of 2012), but is largely in stark contrast to the introspective nature of that music. Here I offer a number of dramatic pieces, some of which have waited decades to be recorded. This album presents two lyrical waltzes, a stirring rhapsody, a challenging etude, and a lengthy musical description of fiesta day in a small Spanish village. It also includes a contrasting elegy written to honor the life of America's most famous concert pianist, Van Cliburn, as well as two other gentle works. However, almost every selection on this album could be performed as an encore for an appreciative audience. I hope you enjoy listening to what I have created.
1. Rhapsody (F Minor, 2003) A dramatic opening piece that contains a romantically melodic central section in D flat major that eventually works its way back to the opening measures of the work. The coda incorporates the D flat major motif as well, but with much greater passion. 5:42
2. Sonatina (A Minor, 2007) I wrote this Baroque sounding piece in response to a dare from another pianist who wondered if I could create something distinctly different from my romantic and impressionistic endeavors. I have been told that the main theme sounds like a Bourree, while the triplet eighths I incorporate in the piece had not yet been invented in that era. On another note, the spirited finale seems to want the piece to end in D minor, but the coda cleverly brings this work to a satisfactory conclusion in the home key. 7:15
3. Cherished Memories (G Major, 1999) An easy piece written for an adult friend who had just begun to play the piano again after a number of years away from the instrument. It seems to evoke thoughts of a relatively uncomplicated time of life, 

long ago. 3:01
4. Etude (E Minor, 2002) This is a study in syncopated octaves for both hands. The central section begins quietly enough, but builds to a vigorous climax before subsiding and returning to the opening motif. 3:14
5. Sunrise Waltz (E Major, 1984) At the time this was written, I had been getting up in the dark and running as the sky began to lighten. The opening sixteen measures suggest such a gradual phenomenon which leads to the primary theme of the piece. These same measures are later repeated with much more enthusiasm as the sun rises. 9:12
6. Prelude (D Flat Major, 2013) This elegiac piece is my homage to the memory of Van Cliburn, who passed away in February of 2013. It was the high point of my musical life to meet him and perform in his prestigious international piano competition, and I was moved to create this music when I learned that he was no longer with us. 6:34
7. Valse Fantaisie (A Flat Major, 1958) This is a youthful, enthusiastic work that was written for a young woman who loved, and played, romantic piano music. Her name is Joanne and we are still friends to this day. The dominant theme changes its key signature several times in the exuberant finale, eventually leading to a dissonant chord that is held briefly before a dramatic scale passage up the keyboard and cascades of octaves back down. 7:06
8. Cradle Song (G Major, 2005) A gently rocking lullaby written for a young lady whose piano technique had been sufficiently developed to the level required by the piece. 1:43
9. Festividad de los Mayos (E Minor, 1979) May Day, a time of celebration and courting in Andalusia, begins mysteriously as dawn approaches, and a small town awakens to start the festivities. Several scenes unfold as dancers and singers warm up in anticipation of the revelry.  But this all comes to an abrupt halt as it is time to gather at the church in the village square for a solemn service. When the final chords of a hymn die away, the bells ring out to signal that the celebration can now resume in earnest, and the streets come alive with feverish abandon. 13:11
Total time for ENCORE 56:58
The price for any CD is $15.00 plus $3.00 for postage and mailing supplies. Orders can be placed either by phone or email:
Phone: 503-620-6515
Cell: 503-475-1563
Email: deruntz@pcisys.net

Payment can be made by check made out to John DeRuntz at this address:
John DeRuntz
7975 SW Leiser Lane
Tigard, OR 97224