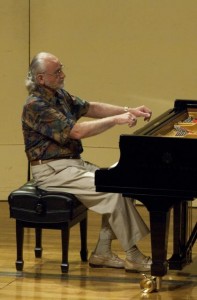 I, John DeRuntz, pianist and composer, was one of seventy–two performers from eighteen countries who were invited to compete in the prestigious Van Cliburn Sixth International Piano Competition for Outstanding Amateurs in Fort Worth, Texas in May of 2011.  It was an incredible honor to have been chosen from all those who had applied, even though I had auditioned with all of my own compositions.  Of course, I had submitted copies of the sheet music so that the selection committee could see that I had followed my own scores. As I was being introduced in the first round of the competition, it was also announced that I was the first competitor to ever program my own music for all three rounds.  I played well and was astounded to hear shouts of, "Bravo, Bravo", from the obviously appreciative audience after my performance.  A few days later, Van Cliburn shook my hand and told me that I have written some wonderful music.  My preliminary round performance and related newspaper articles can be found by clicking on the character string:   "john deruntz van cliburn". Click Here  to go directly to my preliminary round performance on YouTube. (Pictured left: Conclusion of my Van Cliburn performance) For those of you who don't know the name, Van Cliburn, one of America's most famous concert pianists, you can read his obituary published in the New York Times on February 28, 2013:  Van Cliburn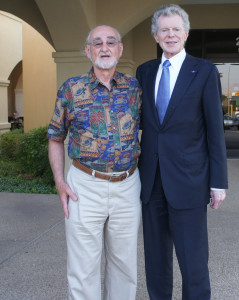 (Pictured right: With Van, taken at a social event during the competition.) To view a brief interview of me after I had been informed of my acceptance into the competition, click here.
David Stabler, the music critic for the Oregonian, Portland's daily newspaper, has written of my music as being, 'in a lyrical style suggestive of Chopin'.  Another music critic, Olin Chism, of the Fort Worth, Texas, Star–Telegram, wrote, 'He is unabashedly old–fashioned, composing in a sort of neo–Chopin style that was kind of charming.  A couple of his melodies lingered in memory.'
What these reviewers don't know is that I humbly share the same European heritage as Chopin, we both have a French father and a Polish mother.  Kind of spooky!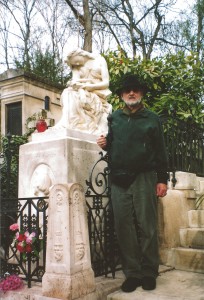 (Pictured left: At Chopin's tomb in the Pere LaChaise Cemetery in Paris)
I was born June 2, 1937 in Chicago, Illinois, and began my classical piano education at the age of six when my mother bought an upright piano.  She learned to play simple pieces by reading the notes while my dad would just sit down and play tunes by ear, and then make up his own melodies.  Fortunately, I was able to absorb something from both of their diverse talents, and I began to learn the instrument in earnest.  I did receive some basic musical training for a year or so after the piano took up residence, but somehow had an instinctive sense of how music was put together.  So I began writing my own simple pieces before I was ten.
Around that age, I received a radio for Christmas that I put on a nightstand in my bedroom so I could listen to the programs kids of my age liked.  Then an extraordinary thing happened one night as I turned the dial and heard the most amazing piano music coming out of the speaker.  My life changed at that moment when I finally heard the announcer tell his audience that the piece was the C Sharp Minor Scherzo by Chopin.  It was all I could do to convince my parents that I now needed a record player, and my first purchase was an extended play 45 RPM disc of that scherzo with the G Minor Ballade on the flip side, both performed by Simon Barere for Remington Records of New York City.  I still have that  album.
My high school years were filled with teaching my fingers how to duplicate what I could from my increasing collection of piano works, records and sheet music by a number of romantic composers.  Before I was eighteen I had mastered, at least in my estimation, three of Chopin's etudes including the so-called `Revolutionary,' as well as the Fantaisie Impromptu, without the benefit of any formal training.  This finally occurred on a part–time basis at the Chicago Conservatory of Music while also working on my Bachelor of Science degree at the Illinois Institute  of Technology, having won a four year scholarship in my final semester of high school.
After receiving M.S. and PhD degrees in Applied Mathematics at IIT in the sixties, I became a professor at the University of California at Berkeley. I eventually retired as a Senior Staff Scientist from the Lockheed Research Laboratories in Palo Alto, California, at the age of fifty-five to consult on my own.  But I continued to develop my musical talent by composing and performing during all of my years of scientific research and lecturing.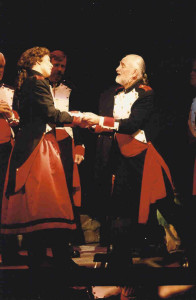 My piano repertoire includes both classical and popular works.  I am also a guitarist and have written for classic, folk, and flamenco guitar.  In the past, I have performed with and led several folk music groups, and even played for a flamenco dance troupe.  I am a vocalist as well and was a member of the Opera Theatre of the Rockies and the Colorado Springs Chorale, the symphony chorus, for many years in Colorado.
(Pictured right: A moment with Marie in Donizetti's `Daughter of the Regiment')
I was a founding member of the award winning Colorado Springs KCME classical radio program, 'ArtsPeak'.  My on–air bit, entitled 'Yesteryear in the Arts', contrasted anecdotes of famous figures in artistic history to life as we know it today. To hear my first broadcast on January 11, 1997, including the intro music, The Yesteryear Blues, click here. I also wrote and recorded the original theme, 'Fanfare for the Arts', and other music for 'ArtsPeak'.  `Fanfare for the Arts' is on my album, `Fantasia'.
I have composed more than seventy classical, romantic and impressionistic piano pieces, and fifty of them appear on four CD albums, 'Soaring', 'Fantasia', `Reverie' and `Encore'. I am a member of Cascadia Composers, a Portland, Oregon chapter of NACUSA (National Association of Composers, USA). Several of my works can be heard on the YouTube website: http://www.youtube.com/user/TheUnknownComposer
Some of my music is occasionally aired on classical radio stations, including KCME, 88.7 FM in Colorado Springs, Colorado, and KQAC, 89.9 FM in Portland, Oregon.
My wife, Maggie, and I moved to the Portland, Oregon area from Colorado in April of 2005.  Since then, I have performed numerous times at the Lake Oswego Festival of the Arts, and I present piano programs at a number of senior living centers.  I also volunteer my talent to provide entertainment for visitors touring the Pittock Mansion up in Portland's West Hills during the Christmas holidays.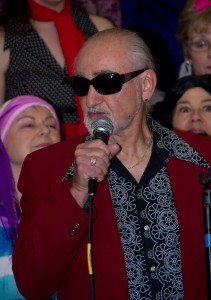 Maggie and I sing together with the 50 voice Conchords Chorale, the official Rose Festival choir whose mission is to bring music to seniors.  The chorale also offers public performances of our Spring and Christmas shows.
(Pictured Left: Singing Rock and Roll as the DJ, Doctor Cool, in a Conchords Spring show)
In addition to my musical career, I am internationally known for my work on the behavior of shock waves and their subsequent effects on structures.  I am a recipient of the esteemed Melvin L. Baron medal for my pioneering work in the development of numerical  computer techniques to solve complex equation systems.  I am listed in 'Who's Who in America'. 
Here is what a few musicians have to say about my music:
Steve Barta, 2013 Grammy Award Nominee and pianist/composer:
John's latest effort, Reverie, is masterfully written and performed. Bravo!
And with regard to the album, `Fantasia':
John's music, originating as it does from his own inner child, is filled with innocent, yet powerful, images.  This touching selection of pieces will undoubtedly stir his audience to examine the state of their own inner child!
– Gregory Adams – 1st Prize, Paris Councours for Outstanding Amateur Pianists.     Co-Founder, Amateur Pianist International and the Rocky Mountain States Piano Competition for Outstanding Amateurs, in Association with the Van Cliburn Foundation.
John's music transports you to a special place of intimate remembrance.  It touches the heart with its melodic loveliness and sensitivity.  What a wonderful escape to times long past in everyone's memory.
– Jeanna Wearing – General Manager, KCME, 88.7 FM, Classical Music and Jazz, Colorado Springs, Colorado.
I love your piano pieces! What a talented chap you are.
– Lawrence Leighton (Larry) Smith – Conductor Emeritus, Oregon Symphony and Colorado Springs Philharmonic.